About Us
Service Area
We are proud to offer service in and around the following communities:

Pecos
Tesuque
History
64 Years And We're Just Getting Started
In 1947, a small plumbing/heating and parts store began serving Santa Fe and over six decades and four generations later, Aranda's is still family owned. Our founding principles of providing quality work, business integrity, unrivaled industry expertise, DIY professional advice, and unmatched service still remain today.
While still known for the vast array of repair parts and faucets we stock, we've grown to including heating & cooling (HVAC) parts and service, sewer and rooter services, plumbing/heating installation, appliance parts and repair, in-store repair service, hardware/lawn and garden items, electrical, and a gorgeous plumbing and heating showroom.
Aranda's is Santa Fe's one-stop shop for plumbing and heating supplies. Sixty seven years in business may seem like a long time, but at Aranda's we're just getting started.
Also if you're a hungry plumber or just a local neighbor try out Aran's Corner Grocery store now open from Monday- Saturday 8:00am-7:00pm. Aranda's Corner Grocery store offers a variety of grocery products, health products and gourmet snack items.
Our Qualifications
We are heating and cooling professionals! We maintain a high level of quality among our staff. All of our installers and technicians are trained on a regular, on-going basis. We are certified by the following industry organizations:

Bonded & Insured
BRYANT FACTORY AUTHORIZED DEALER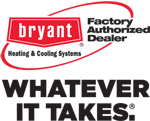 What makes a Bryant Factory Authorized Dealer stand out is the unparalleled performance the company offers -- true excellence in every aspect of operations, product solutions and technical know-how.
Look for the Bryant Factory Authorized Dealer emblem which indicates your dealer has met our high standards for superior skills... superior service... superior products... superior comfort... and a superior promise -- in writing -- of 100% satisfaction, guaranteed. This is what our Bryant Factory Authorized Dealer and the dealership emblem stand for.
Energy Star
The ENERGY STAR program was established by EPA in 1992, under the authority of the Clean Air Act which directs the Administrator to "conduct a basic engineering research and technology program to develop, evaluate, and demonstrate non-regulatory strategies and technologies for reducing air pollution." Families and companies across America are improving the energy efficiency of their homes and businesses with help from ENERGY STAR in ways that cost less and help the environment. This success is possible because ENERGY STAR continues to deliver on its promise to America of cost-effective, relevant, and high-quality energy efficiency solutions.
We are proud to offer EPA Certified Energy Star Products.
Santa Fe Chamber of Commerce
Santa Fe Chamber of Commerce was established in 1882 as the Santa Fe Board of Trade; the Chamber has since been the voice of the region's business community. The Chamber has helped turn the Santa Fe area into one of the best places in the country to live, work and raise a family all while helping over 1,000 member businesses thrive.
The Mission of the Santa Fe Chamber is to strengthen the local economy and serve as the Voice of Business in community affairs.